Roman working class suburb
The urban that amazes
Lively, colorful and dynamic, the Pigneto district deserves to be on the list of things to visit for a tour of the city of Rome with an authentic taste.
Well connected to both Tiburtina and Termini stations, over time it has become a crossroads of different cultures that have merged to create a singular melting pot. The first building agglomeration dates back to 1870, due to the expansion of the neighborhoods nearby.
DISCOVER OUR TOURS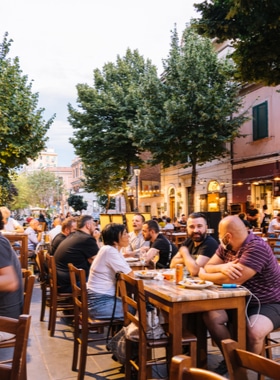 The Pigneto
Alternative Rome
The calmly rebellious soul of the Pigneto, is still perceptible in the murals that embellish and narrate the whole area, having begun to show its self during the Second World War by openly siding against the fascist regime and suffering several bombings.
Walking through these streets it is easy to recall the characters born from the pen of Pasolini who drew inspiration right here and made the famous film "Accattone". It may be for the gratitude for having been the theatre of those scenes that the neighborhood pays homage to him by immortalizing his gaze with decisive strokes of color on the walls of its buildings.
Today, thanks to the different ethnic groups and numerous students who choose to live in the neighborhood, Pigneto is animated by the voices of street artists and nightlife, boasting a wide choice of bars, pubs, taverns and restaurants that brighten the atmosphere.
The urban essence of the neighborhood is summed up in the Parco delle Energie, also known as Parco Ex Snia as until 1954 the area was used by a rayon factory, called Snia. During building works in the disused industrial area,  they struck an energetic spring of aqua bilicante (Rome's famous hill water) which flooded into the overgrown land and gave the city a natural bulicant lake, now a distinctive feature of the complex. Another enchanting place where nature and industry have found a rare balance.
Quick guide
Where to go and what to see
Address:
Pigneto, a neighborhood of Rome
To visit
Murals
Park "Parco delle Energie"
Lake ex Snia
Torrione prenestino (ancient ruins)