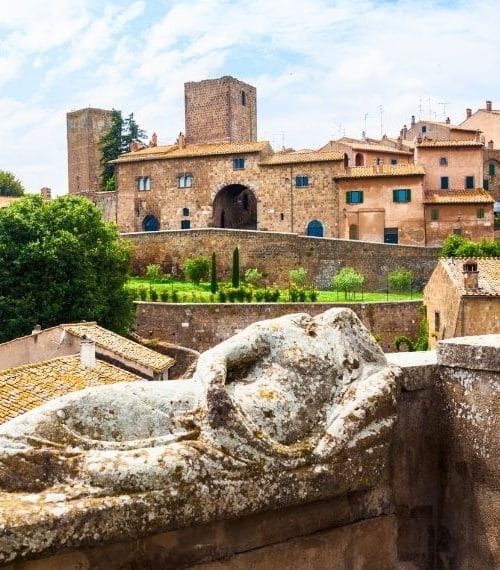 Visit the Etruscan necropolis
Make the most of your time in Rome by choosing this tour for visit Tarquinia and Tuscania and discover the secrets of the Etruscan culture. An unusual tour for your shore excursion from Civitavecchia.
The tour includes transfer from/to cruise terminal of Civitavecchia and professioanl English-speaking guide with you during the day.
Morning, Tarquinia
In the morning (8.30 am) at the port of Civitavecchia you will meet with the driver for transfer to Tarquinia. Upon arrival the English-speaking guide will be te waiting for you. Tarquinia is an example of the Etruscan necropolis and Unesco heritage, with splendid fresco painted in the tombs and precious funerary objects preserved mainly in the National Archaeological Museum of Tarquinia. The tour will begin by entering this archaeological site and exploring the more than 6000 tombs from the 7th century BC that the city has preserved. We'll also admire the frescoes painted on the tombs and discover the meaning of each one of them thanks to the guide's explanations.
Time for a traditional lunch
After learning more about the secrets of the Etruscan culture, we'll recover our strength in a restaurant in Tarquinia. We'll taste a typical appetizer, main course and a dessert. All this will be accompanied by water and you'll have the choice between a glass of wine, a beer or a soft drink.
Afternoon, Tuscania
Tuscania is a medieval town where you will appreciate the most beautiful landscapes of Tuscia. Once there, we'll walk through the old town and see the Lavello Tower, the Santa Maria Maggiore church and the San Pietro church, as well as many other corners of the city. In the city center you will visit Piazza Bastianini, dominated by Fontana Grande and the Duomo. You'll then have 1 hour of free time to continue touring the town at your leisure.
Felix Tours organizes shore excursion from Civitavecchia and also tour  pre or post cruise in Rome. If you have limited time you can choose this tour or the classical Rome day tour from Civitavecchia: you will visit the archeological wonder of the Colosseum and Roman Forum (skip-the-line ticket included) and Rome city center.
Discover Rome before or after your cruise with our pre/post cruise Rome tour, choose the best solution for you between 1,2 and 3 nights packages. Hotel in the city center,  guided visit of Rome the Colosseum area (ticket included) and if you have time you can visit the Roman Castles with an exclusive wine tasting with lunch
To ask more write us > WhatsApp or fill the > Contact Form
Our travel specialist will answer you in short time!