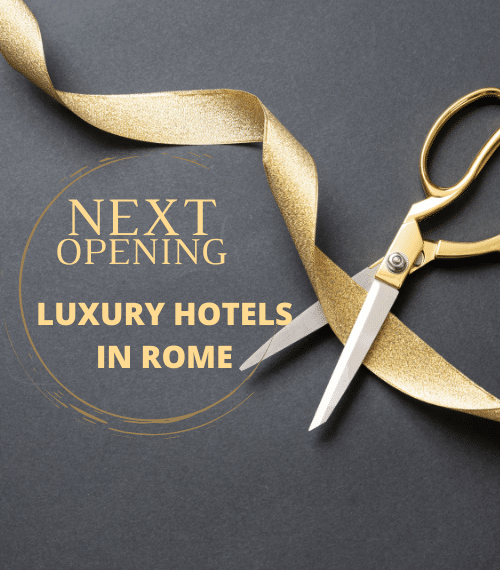 Luxury Hospitality at Its Finest: Rome's Most Anticipated Hotel Openings
We are thrilled to announce the opening of a series of prestigious hotels in Rome.
Following the warm welcome of Mama Shelter, Double Tree by Hilton Rome Monti, W, Intercontinental Ambasciatori Palace and Six Senses, the city continues to offer luxurious options for the most discerning travelers including:
Bulgari (opening confirmed for June 9th)

Edition

Rosewood

Four Seasons

Hilton Rome Eur La Lama

Mandarin Oriental


The Hoxton 
In this blog post, we invite you to explore the latest hotel openings in Rome, where elegance and sophistication converge for an extraordinary stay.
Mama Shelter Rome:

Experience the vibrant and energetic atmosphere at Mama Shelter Rome. This trendy hotel offers stylish and comfortable accommodations, along with a range of amenities designed for a fun and memorable stay. Enjoy the lively communal spaces, rooftop bar, and the unique Mama vibes that make this hotel a must-visit destination.
DoubleTree by Hilton Rome Monti:

Discover modern comfort and warm hospitality at DoubleTree by Hilton Rome Monti. Located in the trendy Monti neighborhood, this hotel offers contemporary rooms, a rooftop terrace with panoramic views, and convenient access to Rome's famous landmarks. Indulge in the signature warm chocolate chip cookie upon arrival and enjoy a delightful stay at this welcoming hotel.
W Rome:
Embrace the vibrant and avant-garde ambiance of W Rome. This luxury hotel seamlessly blends modern design with historical charm, creating a unique and immersive experience for guests. With stylish accommodations, a rooftop bar, and exceptional amenities, W Rome promises a dynamic and unforgettable stay in the heart of the city.
Intercontinental Ambasciatori Palace Rome:
Step into history at Intercontinental Ambasciatori Palace Rome. This iconic hotel reflects Rome's rich heritage and classic elegance. Situated in a central location, it provides a perfect base for exploring Rome's historic treasures and vibrant atmosphere.
Six Senses Rome:
Escape to a sanctuary of wellness and tranquility at Six Senses Rome. Emphasizing sustainability, this urban oasis offers rejuvenating spa treatments, organic cuisine, and holistic wellness experiences. Discover a hidden gem in the heart of Rome's iconic sites.
Bulgari Hotel Rome:
The highly anticipated Bulgari Hotel Rome will be inaugurated on June 9th 2023. This marks the beginning of a new era of luxury hospitality in the eternal city.
Located in the heart of the city, the Bulgari Hotel Rome is the epitome of luxury. With its elegant accommodations, exclusive services, and meticulous attention to detail, this hotel promises an unforgettable stay. Discover refined elegance in the heart of Rome's iconic locations.
Edition Rome:
Immerse yourself in contemporary design at Edition Rome. Combining art, culture, and comfort, this hotel creates a unique ambiance that appeals to the modern traveler. Experience the vibrant energy of Rome from the stylish surroundings of this chic hotel.
Rosewood Rome:
Indulge in unmatched hospitality at Rosewood Rome. Combining elegance and excellence, this hotel offers a luxurious stay with personalized service. Nestled in a prime location, it provides easy access to Rome's renowned landmarks and cultural treasures.
Four Seasons Rome:
Find serenity in the bustling city at Four Seasons Rome. This luxury hotel offers a haven of tranquility with its opulent amenities, impeccable service, and breathtaking views. Immerse yourself in the timeless beauty of Rome from this prestigious location.
Hilton Rome Eur La Lama:
Experience modern comfort at Hilton Rome Eur La Lama. With its contemporary design and high-quality hospitality, this hotel ensures a memorable stay. Located in a vibrant neighborhood, it offers easy access to Rome's renowned attractions and business districts.
Mandarin Oriental Rome:
Unveil timeless luxury at Mandarin Oriental Rome. Renowned for its sophistication and refined elegance, this hotel delivers an exquisite blend of comfort and indulgence. Located in a prestigious area, it offers a refined retreat in the heart of Rome.
The Hoxton Rome:
Discover the vibrant charm of Rome at The Hoxton. With its modern design, chic interiors, and lively atmosphere, this hotel offers a unique experience for the modern traveler. Located in a trendy neighborhood, it provides an authentic taste of Rome's local culture and vibrant lifestyle.
Whether you choose Bulgari, Edition, Six Senses, Rosewood, Four Seasons, Hilton Rome Eur La Lama, Mandarin Oriental, Intercontinental Ambasciatori Palace, or The Hoxton for your stay in Rome, there are a plethora of exciting tours and experiences awaiting you.
Explore our curated selection of Rome tours, including historical walking tours, culinary experiences, Vatican Museums tours, Colosseum and Roman Forum tours and tours of the Castelli Romani area with our Rome and surroundings day tours.
Plan your itinerary and book your preferred tours to complement your luxurious stay in Rome with Felix Tours, your trusted guide to uncovering the best of the Eternal City.
Immerse yourself in elegance, sophistication, and warm Italian hospitality.
To ask more write us > WhatsApp or fill the > Contact Form
Our travel specialist will answer you in short time!