Parks of Rome
Villa Ada, a chest full of surprises
When we think of the central districts of Rome, it is difficult to believe that there are large spaces in which nature is king. Yet this city never ceases to amaze.
In fact, in the second municipality, next to the busy Via Salaria and the historic Catacombs of Priscilla, there is Villa Ada: 160 hectares of trees, ponds, paths and tranquility.
Vai ai tour in programma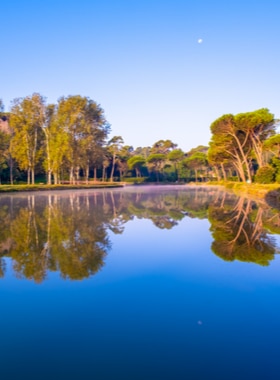 Villa Ada and the Bunker of the Savoia
More than one hundred hectares of history and nature a tram ride away
The proximity to the river Tiber meant that various animal species such as squirrels, wild rabbits, porcupines and a great variety of birds found refuge there. Thanks to the narrow lanes hidden by shrubs and paths surrounded by greenery, it is easy to forget the noise of the city which is gently replaced by the rustle of leaves and the happy notes of concerts in summer.
In addition to the beauty of nature, the park conceals an enviable architectural heritage: the park was once the residence of the Savoy and the royal family has left important traces. Royal residence stables and since 2016, it is possible to visit the Bunker, a bomb shelter well hidden by the vegetation built during the Second World War.
The structure, still shrouded in an aura of mysterious and historical charm, has an area of ​​about 207 square meters and was excavated inside a tuffaceous hill. It is accessed through a corridor large enough for a car in case of danger and two shelter rooms with a special ventilation system to prevent the entry of harmful gases. The entire structure is protected by a reinforced concrete shield which in the event of an attack would have collapsed, detonating the bomb and dissipating its explosive power. An innovative construction for the time that retains decorative elements typical of Italian rationalism.
In short, once again Rome manages to amaze us by giving us beauty, nature and history enclosed in the park of Villa Ada.
Quick guide
Where to go and what to see
Address:
Via Salaria
To visit
Lakes and paths

Temple of Flora

Villa

Polissena

Royal Stables

Swiss Chalet 

Gothic Tower

The Savoia family Bunker