Historic architecture
Charm and mystery: the essence of Castel Sant'Angelo and the Passetto
The center of Rome is a continuous discovery where legends, history, art and architecture come together to give life to a show that has no equal in the world.
A few steps from St. Peter's Basilica, surrounded by the Tiber river and romantic bridges, stands the tall and mighty Castel Sant'Angelo, a building that still today retains an aura of mystery.
Vai ai tour in programma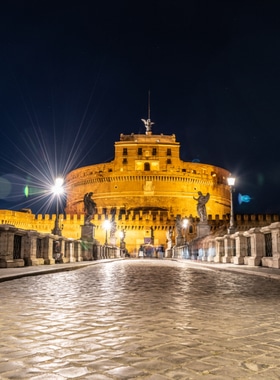 Castel Sant' Angelo and the Passetto
A testimony of the eras that have animated Rome
Built in 135 AD. at the will of Hadrian with the function of monumental tomb for himself and his family, it fulfilled this task until 403 AD. when it was included in the Aurelian walls and became a bulwark, a point of contention among the strongest Roman families. It will be, among others, assigned to the Orsini, a lineage that established itself in the Vatican. It was a descendant of theirs, Pope Nicholas III, who had the now symbolic Passetto built: a bridge that connects St. Peter directly to Castel Sant'Angelo that was historically used to escape in case of imminent danger.
From this moment on, the building will change its intended use several times, passing from being a prison to a Renaissance residence that welcomed Michelangelo among its guests and with these changes, even the architecture changed up to the mammoth structure that we know today.
Full of stairs, courtyards and basements, Castel Sant'Angelo has all the ingredients to be an evocative place capable of recounting the entire history of the Eternal City, which it has seen evolve and transform at its feet, within its spaces. The proximity to the Vatican and the Tiber river offers unmissable views and unprecedented perspectives of the Cupolone (the Dome).
Inside Castel Sant'Angelo, we find another wonder that can also be visited. This is the Passetto di Borgo, an elevated pedestrian walkway about 800 meters long that connects the castle with the Vatican. The purpose of the Passetto was to allow the Pope to take refuge inside the Castle in case of danger.
In addition to representing one of the most particular and original places to visit in Rome, it takes us back to ancient events made up of battles and dangers, allowing us to identify with the events engraved in historical memory.
It is possible to visit Castel Sant'Angelo from Monday to Sunday, from 9.00 to 19.30.
(Full ticket € 15, reduced € 2)
Per maggiori informazioni, visita il sito
Quick guide
Where to go and what to see
Castel Sant'Angelo and the Passetto
Address:
Via Lungotevere Castello
To Visit
Castel Sant'Angelo
The Passetto
The Lungotevere
Saint Peter's Basilica