Museums of Rome
The sinuosity of the marble and the determination of the painting
The historic center of Rome is a den of works of art and every corner of the city gives us evidence of the passage of great artists who wanted to make their signature indelible.
Statues, frescoes, squares and stairways seem impossible to count, especially if you also take into account the wonders kept inside the endless Roman museums.
Therefore, it is not surprising if, next to Piazza del Popolo, in the amazing Villa Borghese, we have the opportunity to visit one of the most popular galleries of recent years: the Borghese Gallery.
Vai ai tour in programma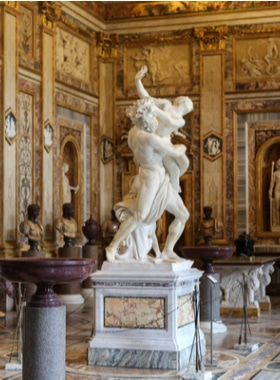 Borghese Gallery
The comprehensive art gallery
The artistic collection was started by Cardinal Scipione Borghese, nephew of Pope Paul V who wanted to buy land in Rome to make it, over time, a park.
The façade, embellished with 144 bas-reliefs, 70 busts and numerous windows, is a prelude to what can be admired inside and whose rooms have been designed to encourage an optimal viewing of the works.
The legacy of the Borghese that can today be observed is the result of illustrious names such as Antonio Canova, Gian Lorenzo Bernini, Caravaggio, Raffaello, Perugino, Antonello da Messina, Tiziano, etc.
A collection of smooth marbles that reproduce the delicate folds of fabrics that seem to move, vivid expressions that tell us the story of an instant engraved forever on the white stone, faces immortalized by oil colors that have restored eternal life to these characters; all framed in frescoed spaces, capitals and marble floors.
After the visit to the Gallery, it is possible to be further amazed by looking out on the nearby Pincio terrace, a magical place from which it is possible to appreciate a romantic panorama of the center of Rome.
Quick guide
Where to go and what to see
Address:
Piazzale Scipione Borghese
To see
Borghese Gallery
Pincio terrace
Villa Borghese
The house of Cinema
The water clock
The Temple of Diana
The Bioparco of Rome (zoo)